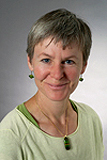 Charlotte van Bassen is a certified teacher of the Pilates Method, a certified teacher of the Yoga Synergy method, a certified Vijnana Yoga teacher and a certified Biodynamic Craniosacral Therapist. She is passionate in her view that movement education based on Pilates combined with the stillness engendered by yoga and craniosacral therapy are the yin and yang of whole body health.
Charlotte was first exposed to Pilates as a student in London, England in 1985. She began teaching there in 1991 and received her Pilates certification from The Pilates Centre London in 1993. Back in Canada, Charlotte opened the first Pilates studio in Greater Victoria in 1997. She was a founding member of the Canadian Pilates Association (now the Pilates Association of Canada) and has attended and given many related workshops in Canada and the United States.


Charlotte began studying yoga as an avocation in 2001. Finding it a great complement to both the efficient movement and the inner stillness upon which her movement practice is based, she has since achieved teaching certifications in two branches of yoga: Vijnana Yoga (2013) and Yoga Synergy (2015 and 2017).
Charlotte's movement practice is also informed by biodynamic craniosacral therapy. She undertook a two year training program with renowned therapist Michael Shea of Juno Beach, Florida and complete her certification in 2008.